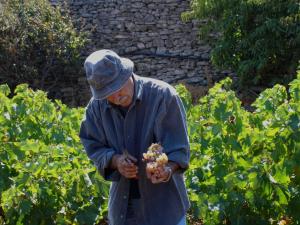 Freshwater
Area of interest
In response to Covid 19 we stand prepared to support local producers
The CPF has supported the creation of botanical gardens in school communities, including unique and endemic plants and herbs, some with special healing effects and others which are key ingredients of local gastronomy. With these kinds of projects, we have tried to raise awareness for the special value of the Cycladic ecosystem and the need to preserve the local flora. 
Additionally, we have tried to align the local fishermen together with local restaurateurs and the local markets in order to support the creation of a pilot chain that will supply and promote the consumption of 'alien', non-native marine species in restaurants. Although considered as a paramount threat for marine ecosystems, the local economy and human health, most alien invasive species also happen to be edible and delicious! To this end, we have created the first recipes e-book in Greece for edible alien species with the contribution of renowned chefs. We commit to keep empowering the local fishermen to sell these species to the local markets because when they end up in their nets, they stop them from potentially hunting endangered endemic species which also controls their populations in our seas and what's more, bring very tasty fresh fish to our plates.
In response to Covid, we stand prepared to initiate a new area of interest for the CPF which is local produce. To this end, we aim to support the small local producers and artisanal manufacturers of the Cyclades who face tremendous difficulties with the local market at the moment due to travel bans, by offering to them new channels to consumers from all over Greece and abroad, as well as in the long-term by highlighting the benefits of local produce for locals and visitors of the Cyclades through dedicated campaigns and other activities.
Read more about local produce in the Cyclades and join our campaign!
Follow us on instagram: @cycladespreservationfund