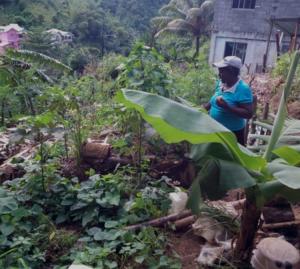 St. Vincent & the Grenadines Environment Fund
Area of interest
The SVGEF supports farming and fishing communities in response to Covid 19
In the past the SVGEF has supported a home gardens project, whereby training and resources were provided to persons in rural communities to construct backyard gardens using purely natural farming methods and allowing for an ongoing healthy supply of vegetables, fruits and herbs for their families. 
At present in response to Covid 19 we stand prepared to offer additional support to farming and fishing communities in order to assist in developing a more robust food security system for the island. 
In its ongoing effort to ensure the safety of the public, against the Covid 19 pandemic threat, the Ministry of Agriculture Forestry and Fisheries appealed to the SVGEF to assist with the supply of masks to protect the health of essential workers in the local food production chain. In addition to meeting local demand for fresh fruits, vegetables and ground provisions, St. Vincent and the Grenadines is also a major supplier to the neighbouring islands of Barbados and Trinidad for local agricultural produce, the demand for which has increased in the light of the pandemic.
To this end,  SVGEF commissioned a local  non-profit organisation based in the Grenadine island of Bequia, Bequia Threadworks, to make 1000 masks, to be distributed by the ministry to farmers, fishers, traders and port workers.
The initial  production batch  has been delivered;
click here
to see the pictures of recipients responsibly protecting themselves and the public at large and to support our work, get in touch!
Follow us on instagram @svgef