Albania Overboard Fundraising swim for the Ionian Environment Foundation
On Saturday 17th September 2022, participants will swim across the channel from Albania to Corfu to raise awareness and appreciation of these precious seas and spectacular natural environment. We are extremely grateful that a proportion of the funds raised will support the Ionian Environment Foundation and its endeavours to protect and preserve this cherished region for future generations.
To date the Albania Overboard fund-raising events have taken place over 8 years with 4 swims and raised over €60,000.
The first Albania Overboard swim from Albania to Corfu was completed in 2014 by a small but determined group of 9 friends. The event has now grown beyond the founding members' dreams and we all hope to see it continue for many years to come.
We aim to raise €10,000 from the event which would enable IEF to support and action so many worthwhile local projects. Relatively small amounts of money can go a long way in terms of making impactful environmental change. For example:
€1,500 grant supports setting up one new Green Spot on Corfu to help address the issue of poor waste management.
€2,500 grant supports replicating the educational programme Waste Action Awareness Week to another Ionian island with the aim of addressing the problem of single use plastics and excessive waste production through changing mindsets and attitudes towards plastic consumption.
€2,500 supports the provision of biodiversity posters and teaching resources to Corfu's 8000 primary school children to inspire interest and concern for conservation at a young age.
€5,300 supports monk seal identification and habitat mapping to ensure this endangered species found in the Ionian archipelago is monitored, documented and protected.
€10,000 supports mapping and analysis of Posidonia meadows to document the value of these carbon sinks and promote their protection and conservation.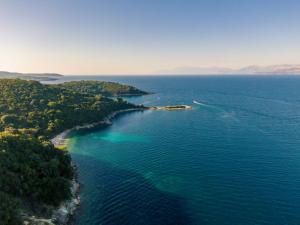 Once signed up to swim, or in support of a friend who is swimming, you can boost support raised for the IEF and the amazing projects they work with by fund raising directly from your friends and family.
We very much hope you will get involved in this event to support the IEF in their impactful efforts for the conservation and preservation of the Ionian Islands.
To sign up and swim with us, follow the link to the Albania Overboard website HERE.
To donate directly or fundraise for us via your own networks – follow the easy steps to 'start fundraising' on the link HERE.