The Collectives Awards 2023
May 4th 2023 
After a week of relentless rainfall in Corfu, the weather unveiled a stunning rainbow that adorned the skies above Kontokali Resort & Spa, Corfu. This picturesque setting was the backdrop of the second annual Collectives awards ceremony, an event dedicated to honouring and celebrating the remarkable achievements of Conservation Collective's locally-focussed environment foundations. This year held particular significance as it marked the first in-person ceremony. 
The Collectives Awards comprise six categories, four highlighting the best grants within our key environmental impacts, one for fundraising, and one for overall impact. The awards were judged by the Conservation Collective's Global Advisory Panel, a group of leading sector experts which provides ad-hoc support to the network. Applications were judged on their potential for replicability, scalability, the urgency of the issues being addressed, and the impact or potential impact created by the grant. 
In each category were highly commended runners up and winners. Recipients of highly commended nominations received a bag of goodies from Conservation Collective's corporate partner Regatta Group and each of the winners received a prize of £1000. 
The ceremony was presented by Lee Durrell, the Ionian Environment Foundation's ambassador. Using excerpts from her late husband Gerald Durrell's book "My Family and Other Animals" and his subsequent observations years later, Lee eloquently depicted the delicate nature of Corfu's rapidly transforming landscape. Lee praised the work of IEF and the Conservation Collective network in addressing global environmental challenges, highlighting the significance of locally-led conservation initiatives. She emphasised, 
"The support for local environmental initiatives throughout the Ionian Islands and elsewhere in the world has been and will be transformational…It's these home-grown, grassroots environmental actions that will eventually coalesce and offer hope for saving the planet."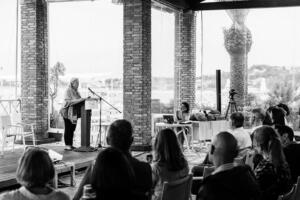 The winners of the Collectives 2023 awards are:   
In the category of P

rotecting Preserving and Regenerating Natural Habitats 

 
Winner: Cyprus Environment Foundation -  'Greening Cyprus in the Fire Affected Areas'  
Grantee: Laona Foundation   
"Greening Cyprus in the Fire Affected Areas" addresses viable restoration of recently fire affected areas. The project regenerates burnt areas through addressing soil erosion and water harvesting issues on the land, by restoring destroyed terraces. The project trained more than 35 volunteers in the art and craft of drywall terracing, worked with over 100 volunteers in tree planting activities, and interacted with local school children and teachers during this project. 
 Highly Commended: Menorca Preservation – Posidonia Oceanica Research Project   
Grantee: Menorca's Socio-environmental Observatory (OBSAM) 
 This research has been able to extend the limits of the biosphere reserve declared by UNESCO in 1993 and fed into the declaration of a new marine reserve surrounding the Isla del Aire, covering 719 hectares, and including over 600 marine species.   
In the category of Helping Native Species to Thrive
Winner: Lanka Environment Fund – Invasive Species Removal  
Grantee: Federation of Environmental Organizations, Sri Lanka  
 Invasive alien species (IAS) in Lunugamvehera National Park threaten habitat and grazing grounds, posing a serious threat to the elephants and other herbivore populations in the park. Lanka Environment Fund supports the Federation of Environmental Organizations (FEO) in removing AIS before seed germination, to facilitate the growth of native varieties, employing local villa villagers to remove IAS manually. The LEF has committed to funding the habitat restoration of 40 hectares over three years (2021, 2022, and 2023). The project is entering its third year and has removed approximately 450 hectares of IAS.  
Highly Commended: Tuscany Environment Foundation – X-POLLI:NATION Community-led Pollinator Protection  
Grantee: Museum of Natural History in Grosseto.  
X-Polli:Nation project led by Museum of Natural History in Grosseto aims to "Get communities buzzing", encouraging people to create pollinator friendly habitats and improve green areas by planting flowers and vegetables. More than 1,000 students took part sharing seed pods, photos and methods. 'Polli-kits' with bee hotels and flowering plant seeds were distributed throughout schools in the region too. 
In the category of Reducing Pollution 
Winner: Devon Environment Foundation – Mycelium and Biochar Project  
Grantee: Fleet Field Lab  
 Flete Field Lab is a pioneering project to identify effective ways of using mycelium and biochar to enhance soil and water quality, sequester carbon, increase biodiversity, and promote low-tech and low-cost nature-based solutions. Mycofiltration is a method of cleaning polluted water by passing it through a dense fungal network of mycelium. A mycofilteration experiment result showed a reduction of 47% E.coil, 32% suspended particles, 13% Total coliform, and 10% nitrate in the sample parameter.  
Highly Commended: Highlands and Islands Environment Foundation  – 'Cutting Down' recycling stations for trawl and creel cuttings  
Grantee: Plastics @ Bay  
A source of significant marine plastic waste is generated by the fishing & aquaculture industries, with almost 30% of that consisting of fishing net & rope cuttings of 5-50cm in length. HIEF has supported the installation of recycling stations in 5 harbours for fishing industry waste such as trawl and creel cuttings. Part of the recycled plastic will be used to produce plaques which can be displayed by participating harbors & vessels to boost awareness of the programme and build loyalty to it.   
In the category of Slowing Down and Adapting to Climate Change 
Winner: Menorca Preservation – Sustainable Agriculture 
Grantee: Menorca Preservada  
 To support Menorca's agriculture transition towards environmentally sustainable practices, Menorca Preservation created MENORCA PRESERVADA, a free farmer training programme. To date, the programme has reached over 130 participants covering approximately 4225,52Ha of land, and it has identified a traditional farm of 23 hectares willing to transition to regenerative agriculture. 
Highly Commended: Devon Environment Foundation – Regenerative Agriculture  
Grantee: Apricot Centre  
The Apricot Centre teaches the next generation of farmers to use nature friendly practices which sequester carbon, increase biodiversity, enhance soil, water and crop quality, decrease soil erosion and run off and increase the long-term profitability of working the land. 22 apprentices were trained in 2022, and 2023 is about scaling up and replicating the model. 
In the category of Fundraising
Winner: Ionian Environment Foundation – IEF Villa Alliance  
The IEF Villa Alliance  is a coalition of villa companies in the Ionian engaging and pledging to share and adopt more nature-friendly practices. The Ionian Environment Foundation supports villa companies and their guests to incorporate positive conservation actions, such as sustainable waste and water management.  
Highly Commended: IbizaPreservation – I euro per table for the environment 
 IbizaPreservation's €1 per table initiative has raised 340,000 euros in ten years and has also been emulated by other members of the Conservation Collective. The scheme encourages a discretionary euro to be added to the bill in participating restaurants, hotels, or onto product sales which are then donated to the foundation. It was first launched in 2013 in conjunction with El Chiringuito, and has now grown to include some of the islands' most iconic brands, such as Sal de Ibiza, Chiringuito Blue, La Paloma, Nobu Ibiza Bay, and Gecko Hotel & Beach Club Formentera.    
In the category of Best Impact 
Winner: Highlands and Islands Environment Foundation – Campaign to protect cetaceans from Acoustic Deterrent Devices
Grantee: Coastal Communities Network / Sealife Adventures  
Acoustic Deterrent Devices (ADD) are technologies used to keep marine mammals away from aquaculture facilities. However, there is growing concern that both target species (e.g., seals) and non-target species (e.g., whales, dolphins and porpoises) could be disturbed and/or at risk of auditory injury through exposure to ADD noise used at fish farms. HIEF pledged £15,000 as a 'safety net' towards potential capped expenses which might be incurred as our grantee pursued a potential judicial review against the Scottish Government for failing to prevent salmon farms from using Acoustic Deterrent Devices (ADDs) without the required European Protected Species (EPS) licenses. From this petition a de facto ban on using ADDs in salmon farming in Scotland has been achieved. 
 Highly Commended (2): St. Vincent & The Grenadines Environment Fund – Sustainable fisheries management  
 The SVGEF and the Ministry of Fisheries of St Vincent and the Grenadines, together with BLUE Marine Foundation, are conducting a baseline assessment of the county's rich marine resources. It kicked off in 2022 and will continue gathering data until 2024, when recommendations on sustainable fisheries management will be made to the national government. Findings to date highlight a decline in conch abundance since 2013, a decline in reef fish populations, and an increase in lobster fishing efforts. 
Highly Commended (1):  Cyclades Preservation Fund – Networking & Best Practices Platform  
The Cyclades Preservation Fund for its working & Best Practices Platform for the Cycladic Environment. In October 2022 they hosted 50 participants from 30 organizations across 17 islands throughout the Cyclades and beyond participated for a 3-day forum exchanging ideas and visiting projects in the field. The CycladoSCOPE platform promotes networking and knowledge sharing among its environmental champions and grantees to scale up their efforts and impact.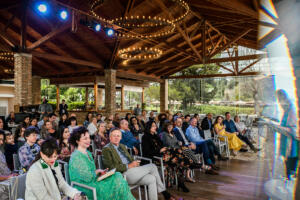 From Conservation Collective, we extend our gratitude to Babbis Voulgaris, Chair of the IEF steering committee, for his generous hospitality in hosting The Collectives awards ceremony at Kontokali Bay Resort & Spa. We also appreciate Lee Durrell's remarkable role as moderator, providing insightful commentary throughout the Collectives awards ceremony. Thank you to the Regatta Foundation for the generous donation of quality outdoor kits for our runners-up. And Conservation Collective deeply appreciates the remarkable efforts and accomplishments of our member foundations, whose exceptional work is making a significant impact.