World Oceans Day x Edmiston Yachts
EDMISTON YACHTS CONTINUES TO SUPPORT CONSERVATION COLLECTIVE
5 projects, 4 countries, tangible impact
LONDON, UK. 8th June
On World Ocean's Day 2023, Conservation Collective, a global network of foundations promoting grassroots environmental initiatives, announces the beneficiaries of a charity partnership with the Edmiston Foundation, for the second year running.
The projects, which all focus on marine conservation, are taking place in locations including the Balearics (Spain), Barbados, the Cyclades and Ionian Islands, Greece, and St Vincent & the Grenadines are being funded by the luxury yacht company Edmiston. These community-led projects fight to regenerate threatened and depleted marine ecosystems worldwide, on whose health the yachting community relies on.
Thank you so much to Edmiston for their support. We encourage people and businesses with strong connections to any of these places, to donate funds so that we can provide more support to local initiatives, raise awareness of climate and biodiversity issues, promote collective action, and encourage communities and businesses to act more sustainably.
Ben Goldsmith, Funder and Chair Conservation Collective
Funding received by Conservation Collective from the Edmiston Foundation will be channelled to member foundations to support the following projects:
Seagrass protection in Greece – raising awareness about this unique biodiversity-enhancing habitat
As well as acting as a carbon sink, Posidonia oceanica (Mediterranean seagrass) provides crucial habitat for marine species, acts as an ecosystem engineer by reducing erosion, and filtering the water – the crystal-clear water we all love and rely on when we enjoy our summer holidays in the Mediterranean! Sadly, Posidonia meadows have lost a third of their coverage over the last 50 years – threats include uncontrolled anchor damage, trawling and aquaculture, sewage water, and coastal development.
'Cyclades Posidonia Alert' an initiative of Cyclades Preservation Fund (CPF – Greece)  in partnership with theHellenic Centre of Marine Research (HCMR) raises awareness about the importance of the meadows and on the need of responsible yacht anchoring.  In May there were a series of events in the Small Cyclades involving community centres, port authorities, skippers and boating communities, tourist agencies and schools. In June, the CPF will participate in the first-ever Greek Posidonia Oceanica Festival, and informational boards and buoys will be placed in marinas and ports across the islands with high yachting activity.
Ionian Environment Foundation (IEF – Greece)'s partner NGO iSea will gather key data to inform a spatial prioritisation model illustrating the distribution of Posidonia meadows in the Ionian Islands about anthropogenic activities, to inform effective future conservation measures.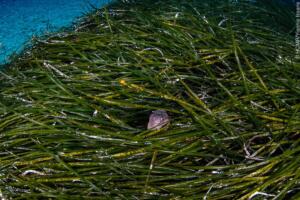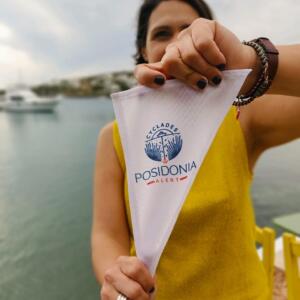 Protecting the iconic Hawksbills, Green turtles, and Leatherback species in St Vincent & the Grenadines
St Vincent & the Grenadines Environment Fund (SVGEF) has developed and executed successful projects in partnership with the Government of SVG and various stakeholders, including the ban on the killing of all sea turtles in January 2017, working in collaboration with National Parks Rivers and Beaches Authority and Fisheries Division. Despite the ban, our recent monitoring programme, funded by Edmiston in 2022, shows that people are still poaching, habitats are being ruined by illegal sand mining and development, and fewer turtles are being seen across the region. Ultimately, more support is needed.
The St Vincent Sea Turtle Monitoring Network, an initiative of St Vincent & the Grenadines Environment Fund (SVGEF) saw training courses for community members take place earlier this year ahead of the nesting season, which runs June-November. Educational and awareness activities will inform volunteers, local communities and beach monitors about protecting these turtles and beach nesting sites, and ensuring the greatest chance of success for this and future hatchlings. This programme also creates new local livelihoods for coastal communities and drives eco-tourism opportunities.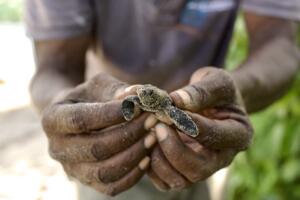 Sustainable Fisheries in Spain and Barbados
Globally, small-scale fishers land 35-50% of all wild-caught seafood…. and it's a sizeable labour pool—nine out of 10 jobs in the fishing industry are in small-scale fisheries. Small-scale fisheries are diverse and supply both global and local markets. WWF
In Barbados and the Balearics (Spain), we support local, sustainable seafood industries via technology platforms and via a campaign to raise public awareness about the problem.
Fisheries management in Barbados is affected by data scarcity. In 2022 the pilot project of 'Digifish' installed 30 Pelagic Data Systems (PDS) vessel tracking devices on small boats in Barbados to promote digital technologies to support effective fisheries management. The pilot provided comprehensive data on how vessel tracking systems can combat illegal, unregulated and unreported fishing and make informed decisions that balance diverse societal objectives and improve livelihoods. The project was well received by local stakeholders and attracted additional funding for scaling the project up to larger vessels. This year Barbados Environmental Conservation Trust (BECT) and the Barbados National Union of Fisherfolk will expand the project, equipping more small vessels to continue gathering crucial data to develop traceability and inform policy around marine spatial planning. Other project benefits include improved digital literacy of fisherfolk and improved safety for artisanal fishers.
The Balearics have one of the best-preserved marine environments in the Med: a robust MPA network; a relatively small fishing fleet; pioneering practices, etc. There is potential to become a leader in marine conservation, yet challenges remain to be solved. The results of investigative research commissioned in 2020 and followed by workshops in 2021 (funded by Edmiston) have provided a diagnosis detailing that illegal fishing and commercialisation practices are a significant problem in all islands.  A group of foundations working for the sustainability of the Balearic Islands have joined forces to address this problem. The main objective of "Calant Xarxes" is to promote and encourage good practices and seek solutions to end poaching and illegal commercialisation. There is no supply without demand, so fighting for conscious consumption is necessary to tackle this problem.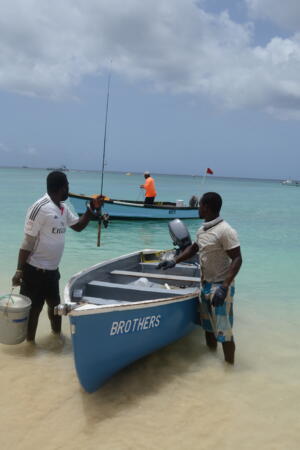 Many of us have been fortunate enough to have wonderful experiences connected to the marine world. Our relationship with the ocean makes it our responsibility to support change to rectify, protect and educate current and future generations on environmental issues that impact the world around us. Via our partnership with the Conservation Collective, The Edmiston Foundation will continue to fund locally-focused initiatives in the Caribbean and Mediterranean, supporting projects we greatly appreciate. We're excited to see the projects continue to grow and evolve over the coming years.
Alex Holden, Strategy Director, Edmiston
To stay up to date, visit www.conservation-collective.org and follow: @conservationcollectiveorg @edmiston.  
 About Edmiston
Edmiston is one of the world's most successful and respected yacht brokerage companies.   Its iconic red brand is instantly recognisable, and with offices in London, Monaco, New York, Miami, Newport and Mexico City, Edmiston is a company synonymous with revolutionising yacht marketing.  The company has been involved in some of the most important yacht sales, charter and new construction transactions of the last 20 years; and continues to inject innovation and energy into every one of its activities.  Founded by Chairman Nicholas Edmiston in 1996, the company is today headed by Jamie Edmiston who has been Chief Executive since 2014.
About Jamie Edmiston
One of the most recognisable faces in the yacht business, Jamie joined his father's business in 2001 following an early career in strategic brand development.   The architect of the distinctive Edmiston identity he worked initially in London.  He then moved to the United States to establish the Edmiston name before returning to Europe.   In 2011 Jamie had a brief hiatus from yachting, leading the successful takeover and revival of the British luxury brand LINLEY.  He returned to Edmiston as Chief Executive in the Autumn of 2014.  Well known as an innovator and visionary, he is also one of the most proactive and successful deal makers in the industry, being responsible for putting together some of the largest and most complex deals of this decade.