2023 Albania Overboard Charity Swim
In 2014, Nick Lemis and Nick Cookson founded Albania Overboard (AO) charity swim—spanning three kilometers between Ksamil, Albania to San Stefano, Corfu. This event pays homage to the historical context of the crossing, once a heavily militarized border until the early 90s, separating west-leaning Greece from the Albanian communist dictatorship. Tragically, countless Albanians attempting to escape were met with fatal gunfire in these waters. Yet, against all odds, a resilient number of them persevered.
The primary objective of AO is to raise awareness and crucial funds for carefully chosen local charities. The funds raised by this year's swim will turbocharge the actions of the Ionian Environment Foundation's marine conservation projects. Four diverse projects were championed – from monitoring dolphins and Posidonia meadows mapping to delivering interactive marine education in remote Ionian schools. The projects all promote the long-term viability and health of the beautiful Ionian Sea through which participants swam.
In this year's challenge, Conservation Collective's Program Manager, Berta, swam and Development Officer, Sekoah, paddle boarded with Victoria, IEF's steering committee member . In the following account, Sekoah shares the details of this exciting event.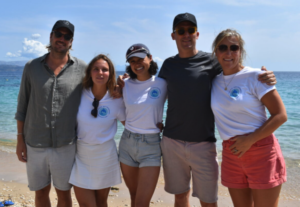 At the crack of dawn on Saturday, September 2nd,  Berta, Victoria, and I joined the Albania Overboard participants at Corfu port. Excited chatter from swimmers filled the air as we waited for the ferry terminal to open. I spoke to three participants who were international law professors who joined the swim due to the Albania-Corfu channel being one of the first International Court of Justice cases where the UK brought an action against Albania for the damage done by mines to British warships passing through this channel. Another swimmer, and wife, were authors of wild swimming books and was excited to check this passage off his extensive bucket list.   
After ushering AO swimmers through painful customs, we boarded a hydrofoil bound for Albania.  Disembarking from the hydrofoil, we transferred to two large buses that drove us to Ksamil, Albania where we then walked down a winding dirt path to the ocean's edge, where the 3K swim began. One swimmer kindly distributed Snickers bar to some hungry swimmers, and I chewed one as I frantically pumped up my paddleboard. We were 1.5 hours late due to long customs at the border and the first hydrofoil of the morning being out of service. Our support boats had to be on high alert for early afternoon ferry and boat traffic.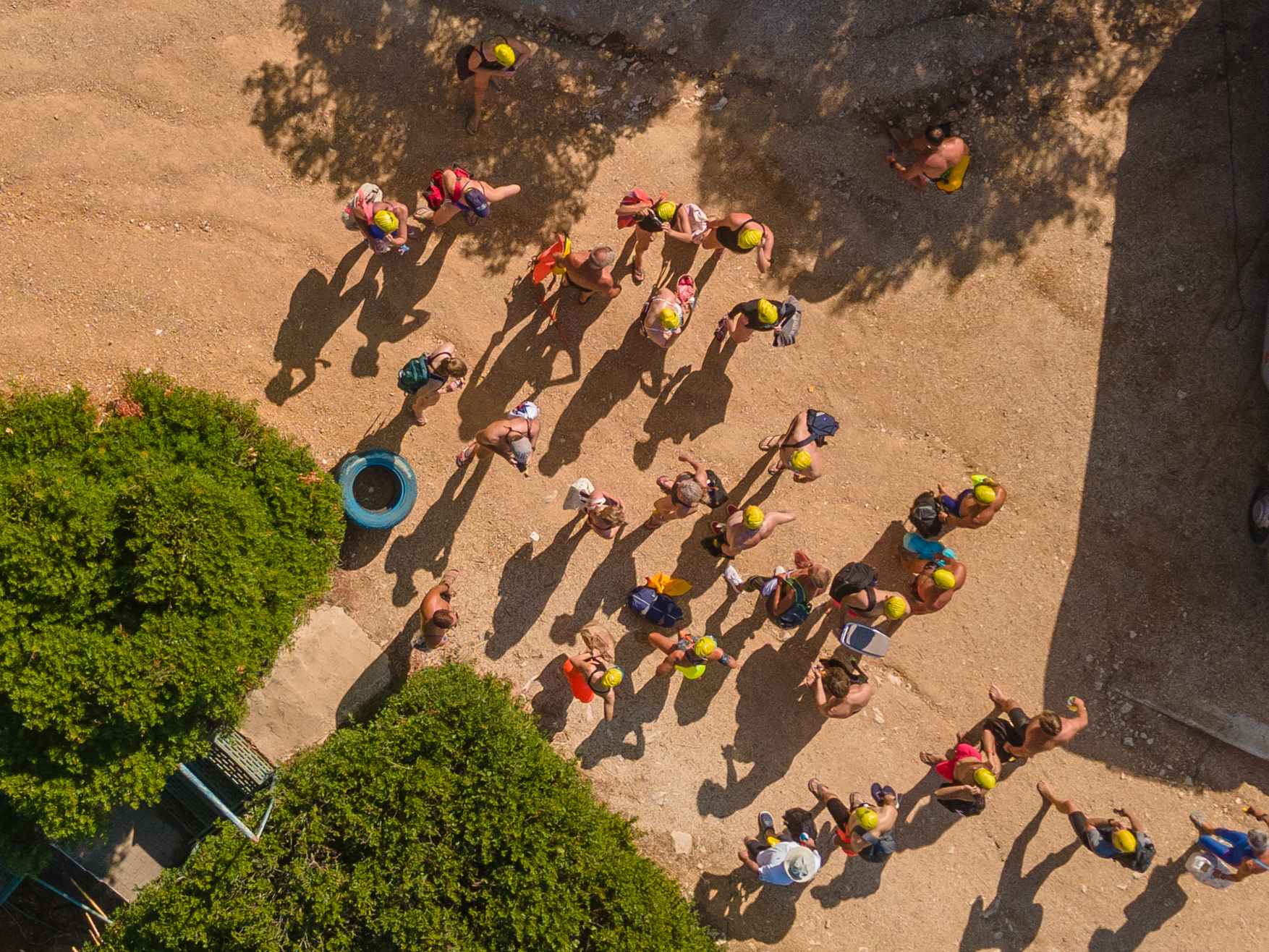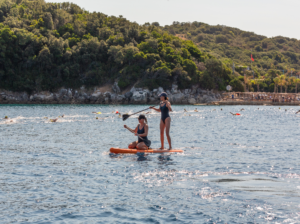 Pushing out the paddleboard and paddling a few metres away from the beach, Victoria and I heard the foghorn marking the event's start as 73 swimmers in bright yellow swimming caps dived into the crystal-clear, blue-green Mediterranean waters. Coast guards dressed in bright orange and volunteer boats flanked the swimmers and shepherded them right of our target destination, San Stefano, to counteract the currents. 
The swimmers were extraordinary as they swam into increasingly darker waters as we crossed the marina trench. As she swam past us, Berta gave a cheeky wave and a big smile before plunging her hand into the water.   
Halfway through the course, the currents changed, and far-right swimmers were carried further off course. Our paddleboard was seen as a refuge from the strong currents, as we towed a few wayward swimmers back on course. The Coast Guard and volunteers were excellent, and they stuck close to swimmers, guiding them through the safest route and even offering lifts out of the current.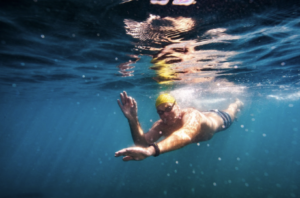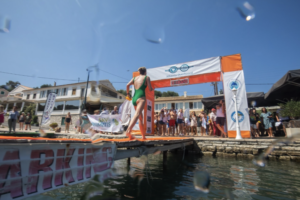 With San Stefano in sight, swimmers' newfound strength carried them to the finish. The fastest came in at 53 minutes, and the concluding time finished at 1 hour and 45 minutes.  Swimmers were greeted by a massive round of applause and well-deserved refreshments provided by the Sin Praxi Community Project members, an incredible community-driven recycling centre and grantee of the IEF. Dare 2B, IEF supporter, generously provided towels for participants to dry off the salty water.
In the evening, Damianos Bar generously provided the space for an AO afterparty, with Villa Collective kindly providing drinks for the night. Nick Cookson and Nick Lemis opened the speeches congratulating the swimmers and the volunteers who helped organize Albania Overboard.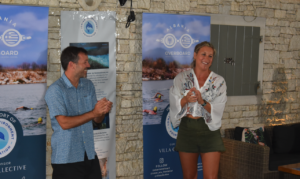 Victoria and Simon Karythis, new Excecutive Director of IEF followed, explaining the four marine projects that the swim championed:
Ocean's Education for Remote Ionian Schools

: An educational program implemented in hard-to-reach schools of the Ionian Islands, providing over 800 primary school children the opportunity to learn marine conservation and have opportunities to be actively engaged in finding solutions. Learn more

HERE.

 
REPOSIDONIA – Seagrass Meadow Protection:

The Posidonia seagrass meadows in NE Corfu's Erimtis region alone host over 82 marine species and store approximately 600 tonnes of carbon.

iSea

's Reposidonia project improves data on Posidonia's distribution in the Ionian and identifies areas requiring immediate attention to safeguard this seagrass and protect the species it hosts. Learn more

HERE.

 
Ionian Dolphin Project

: Dolphins in the Ionian Islands play a vital ecological role as indicators of marine ecosystem health, contributing to the region's biodiversity and captivating visitors with their charismatic presence.

The Ionian Dolphin Project

aims to provide new evidence and key information on the actual status of the common dolphins and the bottlenose dolphins in the central part of the Ionian Islands and to identify the most adequate measures to promote the conservation of this species. Learn more

HERE.

 
Sustainability in Sailing Pack

: The Ionian region has seen a huge growth in boats available for charter. Yet, very limited information is available for users on good practices and how to avoid actions that will damage the marine environment, especially the destruction of Posidonia meadows. The Sustainable Sailing Pack contains information on the Greek marine fauna and flora, how to avoid negative impacts when boating, responsible practices on board and shore, and how tourists can support conservation efforts. Learn more

HERE.

 
Albania Overboard 2023 was a remarkable and impactful event, raising over 15,000 euros. I would highly recommend this adventure to any keen adventurous swimmer. Follow @albaniaoverboard on Instagram for dates of the next AO swim event!  
Thank you to our supporters

Kontokali Bay Resort & Spa 
Salty Bags 
Saltos 
Hellenic Rescue team  
Mastoras Ambulance and Staff 
Damianos Bar 
Hellenic Rescue team  
Mastoras Ambulance and Staff  
SinPraxi Community Project  
And all of the swimmers who made this event possible!  
Photos by Nikos Mamalos and Konstantinos Karatasitsas