The CPF tackles alien invasive species through gastronomy
Alien species are considered as a paramount threat for marine ecosystems, local economy and human health, worldwide. Research has shown that annually the degradation of marine ecosystems and the consecutive loss to human activities, caused by alien species, result in hundreds of millions of euros.
Greece is one of the most affected country since up-to-date more than 300 marine alien species have been recorded but unfortunately small scale fisheries avoid targeting alien species since their market value is minimal, and thus the additional effort necessary to catch them is increased. However there is a constant increase of the proportion of alien species caught, compared the native species catches.
On the other hand consumption of alien species in other countries is quite widespread with a high market value for a variety of species. Cyprus is such an example, where the Spinefoot fish (Siganus luridus & Siganus  rivulatus) reach approximately 20 Euros per kg, while in Greece is usually discarded as an unwanted catch.
The Cyclades Preservation Fund's partner, iSEA will support them to promote the consumption of specific alien species and introduce them in stores & restaurants, starting with the local market of Santorini. They will additionally inform the public about alien species and train citizen scientist at recording and monitoring alien species.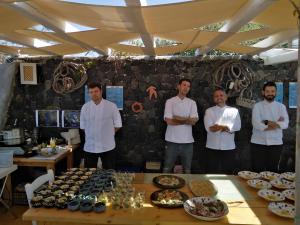 Highly venomous lionfish on the menu in Greece and Cyprus as conservationists tackle invasive species

Daily Telegraph

Invaders threaten local marine ecosystems

Ekathimerini
"These are fish that do not have real predators here, meaning they are multiplying at an uncontrollable rate and eating everything around them"

Anni Mitropoulou, Executive Director of the Cyclades Preservation Fund