Aeolian Islands Preservation Fund 2018 Annual Report
We aim to empower the local communities by raising awareness about sustainability, hoping over time that environmental concerns will be integrated into all walks of life. We identify partners to can reinforce and grow local capacity, so that the work we do is impactful over the long term, and will ensure the Aeolians retain their natural appeal for generations to come.
The stunning beauty of the Aeolian Islands has attracted explorers and travellers throughout history. The first inhabitants of Aeolian's arrived around 5000 B.C.; in every island there are visible signs of settlement and archaeological remains. Etruscans, Greeks, Romans before, then Arabs, Christians, Aragons, Turks. The Aeolian Islands are a Unesco World Heritage Site, due to their unique volcanology – with both Vulcano and Stromboli being live volcanos.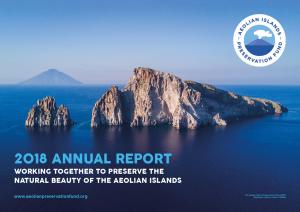 In recent years the Aeolian Islands have undergone considerable growth, leading to an unmanageable requirement for resources such as waste management and extensive environmental degradation. With a residential population of 10,000 people, the Municipalities come under huge pressure each summer season as over 100,000 tourists arrive. This flow of tourists in a short period of time exceeds the capacity of the Islands' environment, adding to the strain on fresh water, waste management and energy resources.
The AIPF is an initiative started in 2015 by friends of the Aeolian Islands, who want to give this fragile ecosystem the protection it deserves. We raise money from people from all around the world who care about the future of the Aeolian Islands. We use funds raised to give out grants to local environmental and sustainable initiatives.
To address these social and environmental challenges, the AIPF has worked with partners and funded projects to protect the land and sea, commissioned studies to engage the community and promote change, and established alliances to strengthen local voices on critical issues.
We do this so future generations can also love, enjoy and prosper from the Aeolians pristine seas and marine species, fertile soils and landscape, unique biodiversity and exceptional, natural beauty. By preserving our islands' natural beauty and resources, we contribute to the community's well-being and prosperity