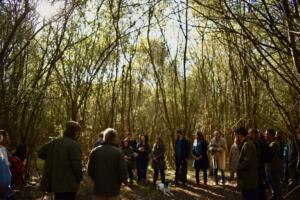 "I feel truly spoilt – 15+ towering white storks over the Weald and learning the appropriate collective noun is a 'muster', as well as a visit to a UK Beaver lodge were all firsts for me. The Burrells are all so inspiring, and having them share their achievements, natural, economic, literary and culinary brought the assembled group together with real purpose. A day of beginnings I feel…"

Alexander Rhodes (Mischon Purpose)
On the most spectacular autumn day we had the great fortune to be given a tour of the rewilded 3500 acre Knepp estate by owners Isabella Tree and Charlie Burrell, alongside their daughter Nancy.
A group of Conservation Collective team members, foundation directors, donors, steering committee members and friends met for coffee and talks from Charlie and Molly, Head of Natural Capital at Knepp. Suffice to say it was not a soft start. On arrival, we got stuck straight into the nitty gritty, hearing about Knepp's nature positive solutions for the twin crises of our age; climate change and biodiversity loss. They revealed the exciting discoveries of Nancy Burrell's PHD work on the tremendous potential of rewilded land to sequester carbon. Charlie shared his thoughts on moving businesses from nature extractive to nature resilient models and their various drivers for change including consumer trends, private investment for ecosystem services and policy incentives such as the government's sometimes contentious ELMS scheme.
Then it was time to don our boots and head out into the landscape, which many have agreed feels more like an African savanna than a piece of Sussex countryside. We walked and talked, learning about Knepp's unique journey, the significant biodiversity gains which have been made over the past twenty years, and exciting plans for its future. Charlie was seen to be much more relaxed in the presence of his old English longhorn cattle than Ben Goldsmith, with much friendly ribbing about those with a farming background and those without. The presence of these cattle fulfilling the ecosystem function which originally would have been supplied by aurochs until about 3000 years ago.
We sauntered on, often catching sounds and sometimes sights of fallow deer 'lekking'; a male behaviour during the rut, at this time of year, which is accompanied by a guttural noise. Overhead the storks put on a magnificent display, soaring upwards in what seemed like the final hurrah before their exodus to southern climes. Stork nests; gigantic, seemed gloriously haphazard in their exposed position at the tip of tall oaks, at least to the ignorant English eye, unaccustomed as we have been to such sights for several hundred years.
We made it to the beavers six acre enclosure with its creative destruction of felled trees, dams, a glorious lodge, pools of water and the cleverly orchestrated mosaic of light and shade. What treats they will have in store at Knepp when these keystone species are allowed full run of the estate and are able to make their unique contribution to the wood pasture landscape.
As if a morning with our Burrell heroes in the autumn sunshine, far away from laptops and free to ask questions and ponder answers at our will was not enough, we were then treated to lunch in the harmoniously designed, upcycled Wilding Kitchen, with chef and son Ned Burrell at the helm. Beetroot, cheddar, bread, beef, salads followed by the most delicious apple crumble. Wow.
Ben gave us his characteristically rousing call to arms before we set off home, minds filled with sloes on the blackthorn, sunshine on hawthorn berries, chats with like-minded souls and thoughts on how we can galvanize more people with our messages of hopeful nature restoration.