Local Heroes – Glenroy Adams
This edition of Local Heroes is a bit atypical in that Glenroy Adams, a local diver from Union Island (St Vincent and the Grenadines), is not part of any specific organisation or formal project. Local consensus is that he is a bit of a legend, though. 
Glenroy has been a hands-on conservation and environmental champion in the island for decades. For example, he helped with campaigning and lobbying for the creation of the Tobago Cays Marine Park and is actively engaged in environmental and conservation education for children.  
Reducing oil can waste from conch divers and fishers  
A few years ago, Glenroy noticed the amount of oil cans found floating across the beach and harbour of the town of Clifton, in Union Island. These cans were discarded by local conch divers and fishers who, after replenishing their boat's tank with a mixture of oil and two-stroke engine fuel, would leave the empty oil cans on the beach. The oil residue would then wash off into the sea water and cause a serious risk to marine life.  
 Aware of the need of conch divers and fishers to go out at sea everyday while also committing to the protection of the island's environment, Glenroy devised a win-win solution: He began to supply the divers with already-mixed two-stroke, selling at an affordable price, in order to reduce the use of single-use oil cans. In addition, he offered divers one can of free fuel for every 12 empty cans they brought back from the beach, thus reducing the existing pollution on the beach and reducing the risk of continuous runoff.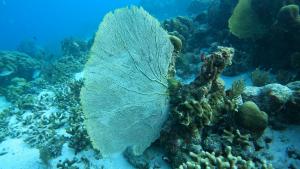 Tobago Cays restoration 
As a result of tourism and agriculture, the islands that now form the Tobago Cays Marine Park used to suffer from deforestation and waste pollution from rubbish.  
To address this, Glenroy bought and planted trees in line with the local biodivresity in order to begin to restore an ecosystem that is now thriving. He also cleared piles of litter from the beach and further inland, bringing them into Union Island for their correct disposal.  
Glenroy cares deeply about his community and is inspired everyday to act to protect it. As a side note, he is increasing local conch divers' safety while diving by encouraging them to acquire the necessary scuba diving certifications.