Spotlight on the Director – Sofia Matsi
As part of our 'Spotlight on the Director' series we would like to introduce Sofia Matsi, Executive Director of our newest local foundation, the Cyprus Environment Foundation! 
Sofia is passionate about anything related to nature, exploring the outdoors and making positive change around her.  
As she began exploring Cyprus and its diverse and unique habitats and ecosystems, she increasingly fell in love with it; growing adamant desire to protect it. In fact, for the past eight years her varied work in Cyprus includes heirloom seed collecting and saving and regenerative farming, natural building and resilient water management.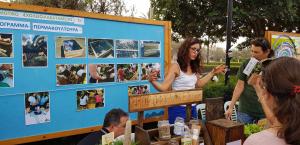 Studying g permaculture principles and methods taught her the importance of preserving and, when necessary, regenerating the country's precious terrestrial and marine resources 
Her vision is that Cyprus Environment Foundation will provide rocket fuel for those working hands-on to build resilience, deliver sustainability projects and lead the way in the protection and restoration of the natural ecosystems of Cyprus.